Idaho is MUCH more than potatoes. With the Sawtooth Mountains and beautiful nature scenes, there's no reason Idaho shouldn't be on your bucket list. And when you go, you can explore some of the best Idaho hot springs! But with about 130 soakable springs, not all of Idaho's hot springs are worth a visit. So based on my experience, I'm showing you the best you need ASAP.
We'll cover everything you need to know about each spring and where to find them! Let's dive in.
📌 Save this to Pinterest!
Disclaimer: Hey explorer! This post contains affiliate links which means I earn a small percentage of each purchase made through my links. I only ever recommend products I believe in and appreciate your support if you decide to use my links—thank you!
FREE US National Park Checklist
Download my printable checklist of all 63 US National Parks! You can use the digital version to explore free park guides.
Idaho Hot Springs Do's & Dont's
We want to keep Idaho's hot springs steamy, right? So you must follow these guidelines when you visit.
Throw Trash Away — Okay, so this is gross, but when Scott (the BF) and I were exploring, we found other people's underwear left at some… gross. Dumping trash can seriously harm the springs, and if garbage gets into a spring's water source, it can lower its overall temperature—bye-bye warm water.
Save the Bath for Home — The best Idaho hot springs are hot spring, not your janky bathtub. The springs cannot tolerate soap or shampoo, even the all-natural kind.
Clothing is Optional — Learn to turn the other cheek if it bothers you. 90% of the time, there was more than one Idaho hot spring pool in a single area, so you can always go soak in the opposite direction of a nudist if you want space.
Be Respectful — Some people find Idaho hot springs meditative. Please respect this. If someone is sitting quietly in the spring, respect that silence and keep your volume low. And in general, some people just want to relax. Save the party for later.
Be Mindful of Capacity — Some springs are so small that they only fit one to two people inside! So if you see someone going into a tiny tub, be mindful that you may not be able to fit in as well. Wait your turn if you must!
Leave the Dogs at Home — The best Idaho hot springs (and other hot springs, for that matter) are not suitable for dogs. Their insides can't handle the heat most times!
Now we can finally talk about the springs!
The Best Idaho Hot Springs
#1 Goldbug Hot Springs
Coordinates: 44.898098,-113.9745069
Entrance Fee: Free with a suggested donation
Hike: 4 miles RT
Elevation Gain: 1,350ft
Features: Multiple pools with mountain views
Hot Water Level: HOT (top pool); Medium (2nd pool from top)
Goldbug was the very first Idaho hot spring Scott, and I visited. It'll blow you away!
Upon arriving at the parking lot, you will see a box for a suggested donation.
You will then start your hike up a fairly steep hill that goes through someone's private property (be extra respectful and stay on the trail).
Make sure you have hiking sandals or sturdy hiking boots.
After climbing up for a 0.25 mile, your hike to Goldbug will flatten out.
Eventually, you'll go through brush, reach a boulder field, and continue climbing alongside the hot creek that feeds the pools.
When you come to a bridge on the top of a hill, you'll notice a pool below, indicating your arrival. The view will take your breath away!
Insider Tip: We found that the pool below the bridge (which is the hottest one) was a bit crowded. So, we chose to walk down a dirt path below and go to the second largest pool, which was probably a medium temperature.
#2 Boat Box Hot Springs (Must-See Idaho Hot Spring)
Coordinates: 44.2448647,-114.886138
Entrance Fee: Free
Features: Large cauldron on the Salmon River
Hot Water Level: HOT
The Boat Box hot spring is a bit tricky to find.
It sits below a small roadside pull-off, so it is easy to miss.
Upon walking down a little dirt path, you'll come face to face with the cauldron, and at this point, you'll notice just how small it is.
BUT, don't let the size of the tub fool you! It's perfect for 2 people to enjoy.
Directly behind it is the source of this Idaho hot spring's water, and it is HOT.
You'll use a PVC pipe to fill it up. Then, if the tub is TOO hot, you can cool it down!
There is a bucket right below that tub that is not trash, but for you to grab water from the cold Salmon River next to Boat Box and use it to regulate the temperature.
Fun Fact: You might see bald eagles in this area!
#3 Gold Fork Hot Springs
Coordinates: 44.6758439,-115.9458876
Entrance Fee: $10
Features: Commercial spring with multiple soaking pools
Hot Water Level: HOT
Gold Fork Hot Springs features gorgeous pools with naturally sourced water from the ground.
This Idaho hot spring is more commercial than the others you've seen so far.
To access Gold Fork, you'll have to pay a $10 admission fee.
Insider Tip: I recommend checking out their website for the most up to date spring information.
#4 Mountain Village Resort
Coordinates: 44.2170452,-114.9339076
Entrance Fee: $25 per hour for 3 people
Features: Hot spring at a resort with private barn-style pools & views
Hot Water Level: HOT
Know for its barn-style exterior; this Idaho hot spring is in a resort.
So you have a couple of options for soaking here.
Your first is to book a room at the Mountain Village Resort, which includes a soak at the springs.
The second option is to visit the resort and reserve time to use the hot springs.
Option number two will cost about $25 per hour!
Fun Fact: On a clear day, you'll be greeted with views of the Sawtooths, making this an excellent place to sit back and enjoy Idaho's beauty!
#5 Cove Creek Hot Springs
Coordinates: 44.2635658,-114.8174687
Entrance Fee: Free
Features: Small natural soaking rock pools on Salmon River
Hot Water Level: Medium
Cove Creek Hot Springs is made up of two tiny little pools down by the Salmon River.
The water comes up from below, making the bottom of the pools reasonably hot.
I found that this Idaho hot spring is more secluded than most others.
And what's nice is there is a restroom at the entrance—an amenity most natural springs don't have.
Insider Tip: Make a stop here if you want to be alone for a bit as it doesn't get very crowded!
#6 Sunbeam Hot Springs
Coordinates: 44.2679821,-114.7568871
Entrance Fee: Free
Features: Natural spring with a blue tub and small rock pools on river
Hot Water Level: HOT (in the blue tub); Medium (in the rock pools)
Sunbeam is a pleasant surprise. It's a natural Idaho hot spring and historic bathhouse on the Salmon River.
If Boat Box and Cove Creek had a baby, Sunbeam would be it.
There are about three different hot spring structures to enjoy along the river.
On the lefthand side of the area, you can enjoy a blue bin tub or a small rock pool (it looks just like Cove Creek).
On the righthand side of the area is a slightly larger rock tub.
There typically aren't super large crowds here. Plus, the three different springs make it easy to get privacy from other parties.
Insider Tip: Bring something like a Sony a6400 and 24-70mm f/2.8 lens for some pics!
#7 Trail Creek Hot Springs
Coordinates: 44.6273832,-115.7526937
Entrance Fee: Free
Hike: 60 feet
Elevation Gain: N/A
Features: Natural pool in a scenic forest
Hot Water Level: HOT
East of Cascade, ID sits Trail Creek and Samuels hot springs.
These springs are popular with locals, so you must visit early if you want to beat the crowds!
When you get here, you'll notice two soaking pools with temperature control valves.
Be wary of the time of year you visit.
Insider Tip: Warm Lake Highway, where the springs sit, might be closed during severe winter months.
#8 Mile 16 Hot Springs
Coordinates: 44.8465833,-115.6976389
Entrance Fee: Free
Features: Natural hot springs in a secluded area with an incredible view
Hot Water Level: HOT
If you're looking for an Idaho hot spring that doesn't require you to hike up a steep hill but has some fantastic views, head to Mile-16 hot springs!
It's located right on the edge of the Boise National Forest and features a small, single pool.
It can fit about four people inside.
So get here early if you want a spot!
Insider Tip: As you soak, you'll be taking in the views of the Salmon River the whole time. Not a bad place to spend the day!
#9 Burgdorf (Unique Idaho Hot Spring)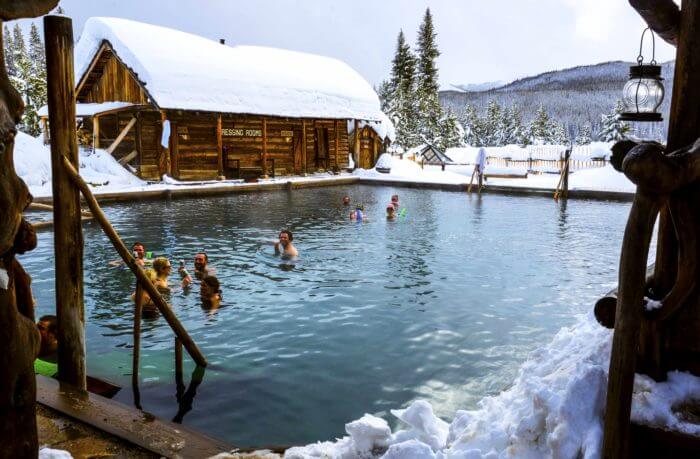 Coordinates: 45.276951,-115.9154359
Entrance Fee: $40 per person per night
Features: 30-mile snowmobile ride to a secluded spring & cabin resort
Hot Water Level: HOT
If you're looking for a REAL adventure, opt-in to explore Burgdorf Hot Springs.
The only way to access it for half of the year is to take a snowmobile out on a 30-mile ride.
Say whaaaaat? Talk about fun!
You can easily rent a snowmobile through Cheap Thrills in McCall, Idaho. So come here if you want a unique experience.
Burgdorf Hot Springs has cabins you can stay in for $40 per person per night with a $10 per night firewood fee in the winter.
Insider Tip: The cabins are somewhat bare, so you will also be required to bring your lighting, sleeping bag, food, and other gear you think you'll want.
#10 Kirkham Hot Springs (My Fave Idaho Hot Springs)
Coordinates: 44.07156, -115.54288
Entrance Fee: $5
Features: A fairy-tale like hot spring experience with cascading waterfalls
Hot Water Level: HOT
Kirkham Hot Springs is likely the most popular spring on the list, and for a good reason!
Kirkham literally belongs in a fairytale.
I loved going there in the morning because it was secluded, and there was so much steam coming from the pools—it looked like a fairytale!
The hot water comes from above, so you can opt to take a "shower" in the hot spring.
Insider Tip: With a bit of walking, we found that the warmest pool was over a small rock ledge, while the cooler ones were closer to the entrance of Kirkham.
#11 Loftus Hot Spring
Coordinates: 43.7242561,-115.6067829
Entrance Fee: Free
Features: Large dreamy soaking pools on the Boise River
Hot Water Level: HOT
A waterfall feeds the two pools at Loftus Natural Hot Spring.
Both pools feature a sandy bottom, which means your peach is in for a little exfoliating should you choose to go here.
Temperatures sit around the 100F mark, making it an excellent place for a soak if you can get a spot here.
Loftus Springs looks so dreamy all year round.
And in the winter, Loftus turns into the most magical site with snow surrounding it 360 degrees around.
Insider Tip: With it being right on Middle Fork Boise River, you'll be nestled in a little forest wonderland while you soak.
#12 Council Mountain Hot Springs
Coordinates: Click here for directions
Entrance Fee: Free
Hike: 4 miles RT
Elevation Gain: 1,246ft
Features: Scenic hike to beautiful natural springs
Hot Water Level: HOT
Like hiking? Well, Council Mountain Hot Springs may be for you!
You'll find this pool tucked away from society in the middle of nowhere in an unassuming forest.
To get here, you'll have to hike about 2 miles.
The scenic hike will be worth it, though! The spring gets really hot, so you'll have a warm soak waiting for you at the end.
There is lots of ample camping available in the area too.
Insider Tip: The road to get here is open from May to November (November at the latest).
#13 Pine Flats Hot Springs
Coordinates: 44.0629083,-115.6840105
Entrance Fee: $5
Hike: .5 miles RT
Elevation Gain: Minimal
Features: Secluded springs in a dreamy forest
Hot Water Level: HOT
The easiest way to access Pine Flats Hot Springs is by parking in the Pine Flats campground.
Once parked, you will be required to walk about half a mile until you reach the first set of springs.
Most people don't seem to know that when you reach the first "waterfall," you can climb up to the top and find a secret pool!
Unfortunately, it was not as warm as I would have liked, so we pressed on.
You'll be required to walk through the creek to get to the main attraction and the hottest pools.
Be careful since you'll be treading through running water!
Insider Tip: Once around the bend, you'll see two more pools! An Idaho hot spring waterfall feeds one and the other by its runoff/ a ground source.
#14 Jerry Johnson Hot Springs
Coordinates: 46.4627053,-114.8816043
Entrance Fee: Free
Hike: 2 miles RT
Elevation Gain: 150ft
Features: Small series of pools you can reach at the end of a trail
Hot Water Level: Very Warm
If you find yourself near the Montana border, hit up Jerry Johnson Hot Springs!
After crossing a river by bridge, you'll walk a little over a mile to get to the first pool.
The remaining pools are along the river and vary in temperature.
The best part about Jerry Johnson Hot Springs is its location: a dreamy, fairy-tale-like forest. Ooo la la!
Insider Tip: The final pool is more secluded than the rest and is still very warm!
List of the Best Idaho Hot Springs & Map
Goldbug Hot Springs
Boat Box Hot Springs
Gold Fork Hot Springs
Mountain Village Resort
Cove Creek Hot Springs
Sunbeam Hot Springs
Trail Creek Hot Springs
Mile 16 Hot Springs
Bugdorf Hot Springs
Kirkham Hot Springs
Loftus Natural Hot Spring
Council Mountain Hot Spring
Pine Flats Hot Springs
Jerry Johnson Hot Springs
Below is a map of the springs.
Click here to see a live version of the map!
Other Hot Springs You Should Consider
Consider these if you want to visit some more amazing Idaho hot springs!
Rocky Canyon Hot Springs
Chattanooga Hot Springs
Bonneville Hot Springs
Prince Albert Hot Springs
Stanley Hot Springs
Weir Creek
Now let's talk about some final tips for enjoying your time at the springs!
Where to Stay
When visiting Idaho, you'll most likely stay in Boise or Stanley, ID. And lemme just say, the accommodations are cute AF.
Take a look…
Triangle C Cabins—Located in the heart of Stanley, ID, these adorable cabins have everything you need for a ridiculously cozy stay. You'll feel like you've walked into a mountainside dream as soon as you step on property. Enjoy the nearby Boat Box hot springs and the fire-pit in the center of the cabins!
Modern Farmhouse Cottage—This 1 BR 1 Bath updated cottage is located minutes from downtown Boise, making it the perfect hub for your adventure. You'll love how thoughtful it is and warming your toezies by the fireplace.
Pet-Friendly Boho Home—Boise is about to turn into your home away from home with the help of the luxuriously updated property! You and Fido will love the bohemian vibes. But you'll love the quiet neighborhood even better.
Stylish Getaway with Sauna—Okay, once you see the interior and amenities in this home, you'll never want to leave! As if the hot springs weren't enough, when you book this Vrbo, you'll come back to your own retreat complete with a sauna. Located near downtown Boise, ID.
Salmon River Home—Talk about a VIEW. If you've been dreaming of a countryside retreat that'll put you near mountains, flowing riverbeds, and natural hot springs, look no further. This gorgeous home on the Salmon River will take your breath away. Spend your mornings and nights watching the sun set and rise over the Sawtooths in your own little gazebo.
What to Pack
Take it from me—you'll WANT these items with you on your hot spring trip!
A Reusable Water Bottle — I recommend bringing a large Hydroflask with you on your trip. Idaho hot springs can be super hot, and you need to ensure you do not dehydrate!
Sturdy Sandals — I cannot emphasize enough how much you will love having a pair of Chaco hiking sandals with you. Many of the springs have a sandy, rocky bottom.
A Cute Swimsuit & Towel — Duh. A swimsuit is a must when you're exploring hot springs—unless you're going nude, of course LOL. Because most of the springs are in the middle of nowhere, you will want a towel. Bring sunscreen too!
Final Tips for Soaking
Take it from me! These final tips are based on my soaking experience so you can have the best time!
Test The Water—There were SEVERAL times when I went to jump in a hot spring, feet first, and found my toes burning away. So test the water before you soak.
Rent a Car—You'll want to rent a car. Some of these hot springs are pretty far from one another! So the best way to get around will be to have your own vehicle.
Go in the Fall or Winter—I suggest planning your springs trip for the fall or early winter! I went in late September and had most of the springs to myself. It was quite a magical experience. Winter can be an excellent time to go too. However, going in winter requires extra planning. For example, there may be road closures!
Overall Thoughts on the Best Idaho Hot Springs
And that's it! I hope this blog gave you insight into what to expect when you visit the best Idaho hot springs.
When it comes to picking a spring to visit, it ultimately comes down to where you'll be spending your time and how to picture the rest of your Idaho trip going. For example, if you'll be hiking the Sawtooths, going to an "easy" to reach spring like Boat Box would be the best move.
Make sure you bring your camera gear to take some pics! If you want to learn more about my favorite hot spring, Kirkham hot springs, make sure you check out my guide!