Sedona is MAGICAL—I imagine you've heard the rumors. As a first-timer, you're probably looking forward to visiting this desert oasis so you can explore or bask in vortex energy all day, but you want some help putting it all together into an epic vacation. So, in this Sedona travel guide, we'll cover all the must-knows before your trip: how to get there, where to stay, where to eat, etc.
And I have to say… you're in for a treat!
As someone who has visited Sedona, Arizona, about a gazillion times and lived there, I feel like I have to ensure your Sedona vacation is just as lovely as you're hoping it'll be.
That's why I'm pouring all the good-good into this guide! We have a lot to cover, so let's get started.
Afterward, check out my other Sedona travel blogs like:
📌 Save this to Pinterest!
Disclaimer: Hey explorer! This post contains affiliate links which means I earn a small percentage of each purchase made through my links. I only ever recommend products I believe in and appreciate your support if you decide to use my links—thank you!
FREE Coming Soon: Steal My ChatGPT Travel Prompts
Join my email list and be the first to get access to my new freebie: ChatGPT Prompts for trip planning! You'll get my best tips for using AI to plan custom trips for you.
Planning Your Trip to Sedona
🌵Where is Sedona? Northern Arizona in Yavapai County and is about an hour's drive south of Flagstaff, surrounded by the Coconino National Forest.
✈️How to Get to Sedona: Fly into Flagstaff (1hr drive to Sedona) or Phoenix (2hr drive to Sedona). KAYAK can help you find cheap flights!
How Many Days: 3 days in Sedona is the perfect amount of time!
🚙Rental Cars: KAYAK is great for vehicle rentals too!
🌞Best Time to Visit: The best months to visit Sedona, AZ are October through April.
🎟Fees: Some trails require a Red Rock Pass ($5)or you can use your America the Beautiful Interagency Pass.
That's a quick rundown of the must-knows, but let's continue and take a deeper dive into more of the planning details!
Sedona Travel Guide Map
For your reference, check out the Sedona travel guide map below! You can also click here to view a live version of the map, hehehehe.
Where to Stay in Sedona
Sedona, Arizona, is home to some of the best boutique hotels that make for a perfect getaway! When you drive in from Phoenix using the 179, you will pass through the Village of Oak Creek.
Traffic tends to bottleneck in this area. Because of bottlenecks and the fact that Village of Oak Creek is 15 minutes away from Sedona city center, I suggest that you do NOT book your stay here.
You'll be further from attractions!
To help you narrow down your options, here are a couple of hotels to consider:
Want a AirBnB instead? I have a write up on the best Sedona vacation rentals!
How To Get There
You have about four decent options for getting to Sedona, AZ, that we will discuss now. Make sure you check KAYAK for cheap flight tickets!
Sedona Airport KSEZ

The Sedona Airport is located in the heart of Sedona.
If you want to fly directly into the city without driving hours, choose this option.
You might pay more for flights, though.
Flagstaff Pulliam Airport FLG

Flying directly into Flagstaff is another option for you.
If you choose this route, you will have about a one hour drive to get to Sedona
Again, you might pay more for tickets.
Phoenix Sky Harbor International Airport PHX

Possibly the most popular option since PHX is Arizona's largest airport.
If you choose to fly directly into Phoenix, you will have about a 2hr drive to Sedona.
While the drive is a bit longer, I like recommending this to folks because you can take day trips from Scottsdale or Phoenix!
Las Vegas Reid International Airport LAS

Flying into Las Vegas is another option! You will have about a 4-hour drive to Sedona and enter from the 89A.
This is an option if you want to extend the itinerary in this Sedona travel guide to include Flagstaff, AZ (you'll be passing through it anyway).
What is the Best Month to Visit Sedona AZ
The best months to visit Sedona are October through April. But now, let's talk about the different seasons and hopefully clarify when to book your trip!
Winter — Winter can be a fabulous time to visit Sedona! It doesn't happen often, but if the temperatures in December are cool enough, you might get snow in Sedona. Snow plus those gorgeous red rock formations are to dyyyyyyyye for.
Spring — Spring is another great time to visit Sedona. If you come in February, there is a chance of rain. The spring temperatures can get a bit chilly from the mid-40s to as warm as the mid-70s. It just depends on the year.
Summer — Summers in Arizona are pretty hot, but if you DO book a trip then, you might score cheaper room rates! Summers also allow for the most swimming in Sedona.
Fall — Fall is excellent and notably one of the most popular times to visit Sedona. October one of the most popular times for folks to book their Sedona trip. If you come around then, you might be able to see fall colors in Oak Creek Canyon!
Things to Do in Sedona
In this section of our Sedona travel guide, we'll list out some of the best Sedona attractions. And let's not forget, Sedona is a hiker's oasis, BUT most hiking trails require a Red Rock Pass ($5). A Red Rock Pass is a fee you pay to help the Forest Service keep Sedona trails clean.
To skip the Red Rock Pass, have your America the Beautiful Interagency Pass handy!
To access some of the trailheads in Sedona, you might need to take the Sedona Shuttle. This is a new public transportation system. The shuttles run year round, Thursday through Sunday.
While they operate, you will NOT be allowed to park in specific trailhead lots. I suggest heading to SedonaShuttle.com for more info and to see the schedule, so you can better plan your trip!
But now that we have those details out of the way, let's dive into the things to do! Remember to check out my other guide on the perfect 3 days in Sedona to see how to put all these items together!
Hiking
Sedona has a mix of difficult hikes and easy hikes!
Swimming Holes
Grasshopper Point
Oak Creek
Culture & Arts
Tlaquepaque Art Village
Chapel of the Holy Cross
Noteworthy Tours
Click here to book a Jeep Tour! 🚙
Where to Eat in Sedona
You have some great options for where to eat in Sedona. Below is a quick list for you to refer to:
Bashas — This is an AZ grocery store chain. If you're renting a place, you might find it helpful to shop for food here. There is a Safeway in Sedona too.
Picazzo's Healthy Italian Kitchen Sedona – A staple. I think every person who visits ends up eating here at least once. They offer their spin on Italian food. Vegan and gluten-free options are available.
Coffee Pot Restaurant — If you take breakfast seriously, this is another Sedona staple!
Layla's Bakery-Cafe — A cute little coffee shop is serving up espresso and pastries!
Whole Foods — I'm serious! Every time I go to Sedona, I magically end up in the Whole Foods parking lot and go, "Dammit! They got me again!" then I proceed to devour every last bit of food at the hot bar.
Canyon Breeze— This is a great place to come to if you want a burger and a place to watch sunset!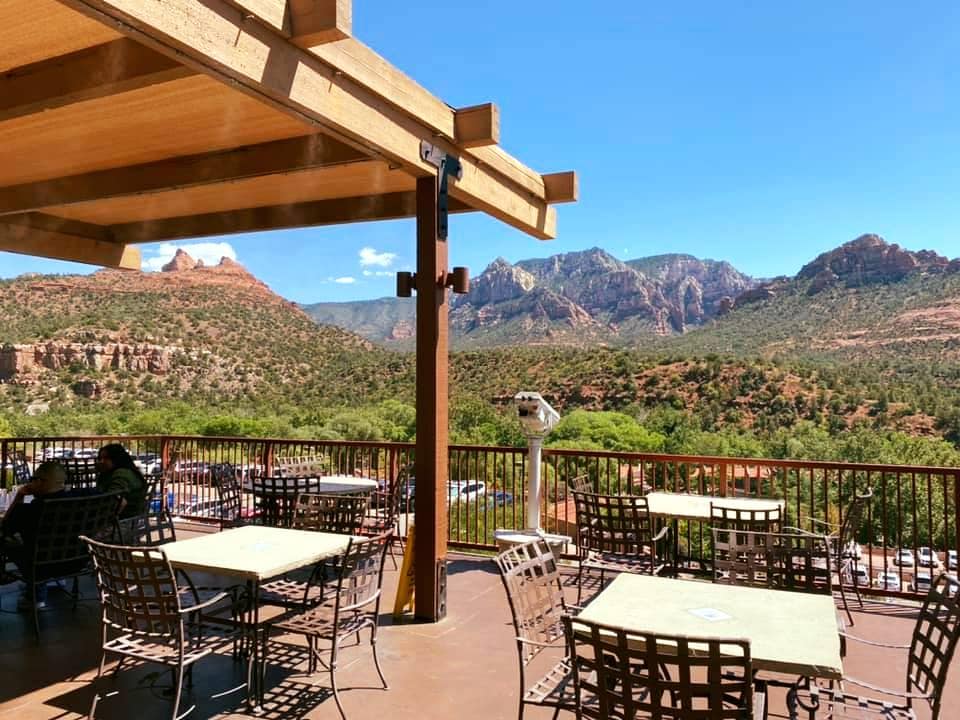 What to Pack
With everything from spas to hiking, you'll want to make sure you pack everything you need to get the most out of your trip to Sedona! Here is a quick list of what to pack.
Next Steps for Your Best Trip to Sedona
After reading this Sedona travel guide, you should have everything you need to help you book your trip to Sedona. It's time to put it all together! Next, check out my other Sedona blogs:
See you in the next post and happy exploring :)!