It's true: Sedona is magical as heck, and it isn't short of beautiful red rocks, vistas, restaurants, hotels. I mean, gosh, the whole damn place is gorgeous! Which probably leaves you wondering, what are the most Instagrammable places in Sedona?
Because if we haven't posted about it, we weren't there, right? HA. Kidding.
But I imagine you KNOW how much postcard worthy beauty is just waiting for you in Sedona.
As an Arizona resident and influencer, I go to Sedona all the time and know all the most picturesque spots. I've got a list of over 30 that you're going to love! 
In this blog, we'll cover all the Instagram worthy places and some must-know details before you visit them.
When you're done with this post, check out my other Sedona blogs:
Ready? Let's goooooo!
📌 Save this to Pinterest!
Disclaimer: Hey explorer! This post contains affiliate links which means I earn a small percentage of each purchase made through my links. I only ever recommend products I believe in and appreciate your support if you decide to use my links—thank you!
FREE US National Park Checklist
Download my printable checklist of all 63 US National Parks! You can use the digital version to explore free park guides.
Camera Gear I Use
If you're a content creator, want to make money as a content creator, or just a photo lover, you might want to check out the camera gear I use below! Just about all of my pictures were taken with this equipment:
For editing, there's tons of aesthetic photo editing apps you can use too!
P.S. Click here to read my guide on how to become an adventure photographer!
Map of Instagrammable Places
Here is a map of Sedona photo spots.
You can click here to view the live version!
List of Best Sedona Instagram Spots
Red Rock Crossing
Lover's Knoll
Secret Slickrock
Yavapai Vista Point
Airport Mesa
Boynton Pass Road
Cathedral Rock Vortex
Devil's Bridge
Soldier Pass – 7 Sacred Pools
Bear Mountain
Brins Mesa
Bell Rock
Courthouse Butte Loop
Doe Mountain
Sugar Loaf Trail
Schnebly Hill Vista
Merry Go Round
Canyon Breeze Restaurant
Local Juicery
Open Range Grill & Tavern
Indian Gardens Cafe & Market
Oak Creek Canyon – West Fork Trail
Keyhole Cave
Birthing Cave
Hideout Cave
Subway Cave
Tlaquepaque
Amitabha Stupa and Peace Park
Chapel of the Holy Cross
Uptown Sedona
Amara Resort and Spa
Enchantment Resort
We're going to dive into all of these Instagrammable places now!
To keep things organized, I broke down all the photo spots into categories. That way, you can easily refer to this blog as you're planning out photoshoots and such!
Instagram Spots in Sedona that Don't Require Hiking
Let's start with the easy stuff because no, you don't need to hike your way through Sedona to get beautiful pictures!
#1 Lover's Knoll
I LOVE Lover's Knoll for sunset or sunrise!
What makes this one of the best Instagram spots in Sedona is how easy it is to get there and the views it offers. I call it a bang for your buck kind of place.
You can find Lover's Knoll along Upper Red Rock Loop Road.
There's enough parking for about 4 cars, so get there early!
Lover's Knoll is one of the best places in Sedona for engagement photos too! Make sure you snap some pics for your Instagram Stories ;).
#2 Red Rock Crossing
Red Rock Crossing is an AMAZING photo spot for sunset!
Sure, you can hike here using Baldwin Trail, but you can also get to Red Rock crossing through the Crescent Moon Day Use Site ($11).
When you arrive, you'll be able to photograph Cathedral Rock in all its glory.
Of course, Red Rock Crossing is a famous swimming hole and easy Sedona hike.
Red Rock Crossing is one of the most popular Sedona photography locations so plan accordingly.
#3 Secret Slickrock Trail
Secret Slickrock can be accessed by walking Secret Slickrock Trail.
The less than half a mile trek will take you to a tucked-away vista with sweeping views of Cathedral Rock.
It's considered one of the most scenic spots in Sedona.
And while it's a "hike," you don't have to do much to get there at all.
Perfect Sedona sunset hike that requires 0 effort on your part!
You can find the trailhead along Chavez Ranch Road, and it will take an incredibly easy 0.3-miles to get to this spot.
When you get here, you'll notice that you'll be ABOVE Red Rock Crossing!
#4 Yavapai Vista Point
This best Sedona photo spot is super underrated and often looked over. Located along Highway 179, the Yavapai Vista Point will give you views of Bell Rock, Courthouse Butte, and the canyons beyond.
To get to the point, you'll park in the designated parking and walk a short, well-marked path.
You have the option of stopping along any of the vistas as you please!
#5 Airport Mesa
Airport Mesa vortex is located in the heart of Sedona and is a fantastic place for a Sedona photoshoot!
When you walk up the short Overlook Trail to the top of the mesa, you'll be rewarded with some of the best views in Sedona, 360 style!
The walk up from the Overlook parking is about 100-feet.
That's 360 views worth of Insta pics right there.
#6 Boynton Pass Road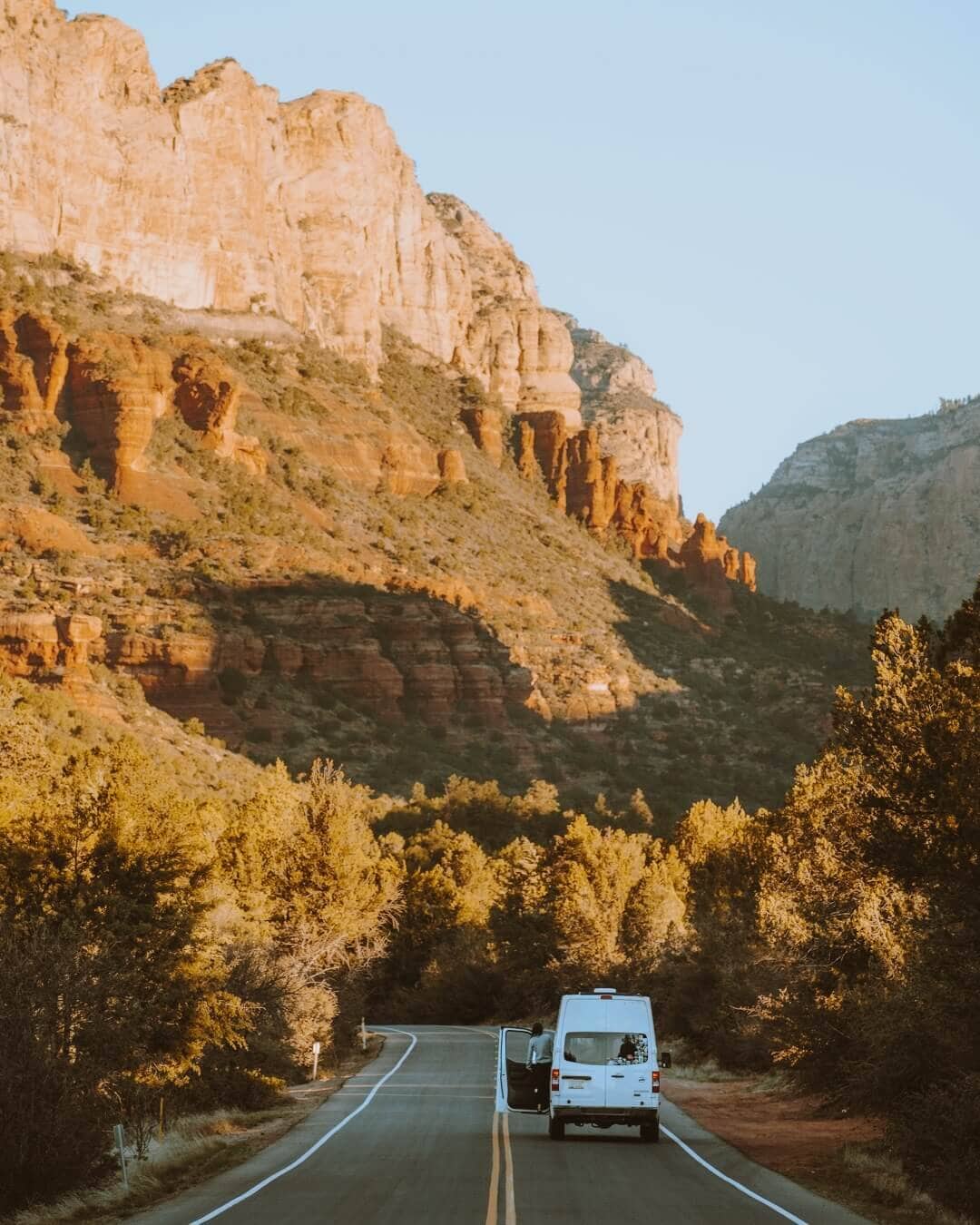 Want some Instagram pics of your car or you wandering into the road? We all know the photos I'm talking about, lol. Drive down Boynton Pass Road!
The surrounding mountains are larger than life!
Grab a 24-70 lens for decent photo compression and snap away.
This is one of the best Instagram spots in Sedona because it's easy to get to AND offers views of the hot air balloons in the morning.
Be careful when parking on the pull-offs!
Instagrammable Hikes
Seeing that Sedona is known for its hiking, it's only fair that we cover the most Instagrammable trails you can explore!
Pro Tip: Some Sedona trails require a Red Rock Pass ($5). You can purchase a pass online or at the trailhead. If you have your America the Beautiful Pass you can use that instead!
#7 Cathedral Rock Vortex
Cathedral Rock Vortex is probably considered one of the best Instagram spots in Sedona, AZ.
I mean, this hike is full of fantastic sunset photo spots.
If you choose to make the mile and a half hike to the top, you'll have the opportunity to take photos at the main overlook or the "secret" red rock pillar!
This is one of the most popular trails in Sedona, so plan accordingly!
#8 Devil's Bridge
Devil's Bridge is another Sedona classic!
Hike here to explore one of the best sunrise photo locations in the area and to score a photo of you looking bad@$$ walking across the natural Bridge.
While you won't get much variety with your pictures, it's still worth the visit!
#9 Soldier Pass—7 Sacred Pools
Soldier Pass Trail has various landmarks like Devil's Kitchen and the secret arches.
However, one of the best photo spots in Sedona happens to be along this trail: Seven Sacred Pools.
The Seven Sacred Pools perfectly align with the surrounding red rocks in a way that makes all of us photo nerds out there all giddy inside.
To learn how to find the secret cave and what to expect on trail, read my Soldier Pass Trail blog!
Pro Tip: Come to photograph them after some rain when the pools are full.
#10 Bear Mountain
Hiking Bear Mountain isn't for the faint of heart.
But if you're feeling adventurous and want a real sunrise adventure, you'll like this photo spot.
Hike this trail to capture some golden light and one of the best views in Sedona for hot air balloons that launch every morning!
Bear Mountain Trail is also very photogenic, considering how many overlooks it offers hikers.
#11 Brins Mesa
Brins Mesa Trail will take you up and up through the red rocks until you reach an overlook that gives you views of the famous Sphinx Rock.
Fun fact: you can also take this trail to Soldier Pass for an Instagram photo double whammy. Hike Brins Mesa early in the morning for the best light and to get some of the best photo ops in Sedona.
#12 Bell Rock
Bell Rock Vortex was named after its bell shape (pretty obvious, huh), which just so happens to make it one of the most Instagrammable places in Sedona.
You can capture Bell Rock from a distance or make the Bell Rock Climb Trail to get to the top of the red rock, which offers the best views, in my opinion!
#13 Courthouse Butte Loop
Doing this easy hike can take you between some of the most popular Sedona photo spots, such as Courthouse Butte and Bell Rock.
Along your walk, you'll notice that Bell Rock, and Courthouse Butte will tower over you.
It's so pretty!
This is an excellent Sedona photo spot for hikers who want action shots of them on trial!
#14 Doe Mountain
If you're looking for an easy hike to snap your Instagram photos, try Doe Mountain! This trail leads you up to a flat mesa with views of Sedona in every direction!
It's an excellent spot for a picnic and some cute picnic pics too ;).
Try Doe Mountain for sunrise and snap away!
#15 Sugar Loaf Trail
Sugarloaf Trail is a naturally photogenic trail from the start.
With the option to head towards Thunder Mountain or the towering Chimney Rocks, taking this trail to some of the best Sedona photos spots is easy!
Sugarloaf looks amazing during sunrise.
My favorite Instagrammable views are from the tops of the surrounding red rock formations.
#16 Oak Creek Canyon – West Fork Trail
West Fork Trail is one of the most Instagrammable places in Sedona, ESPECIALLY in the fall!
The Oak Creek Canyon is lush with foliage that'll make you want to move to the desert!
Take photos in or around the creek for fairytale forest vibes.
Off-Roading Photo Spots
Like a good adventure? Grab your 4×4 and check out these off-roading spots for Instagram worthy photos!
Click here to book your own 4×4!
#17 Schnebly Hill Vista
Schnebly Hill Vista is an AMAZING Arizona overlook and rightfully deserves a list on Sedona Instagram spots.
The sunsets here are unbeatable!
The only tricky part about getting there is having a 4×4, high clearance vehicle or taking a long hike there. If you don't feel like renting a jeep of your own, book a Jeep Tour to take you there!
Click here to book a Jeep Tour!
#18 Merry Go Round/ Munds Wagon Trail
Merry Go Round is a GORGEOUS vista located near Schnebly Hill. It's one of the best Sedona photo spots for sunset and offers unique views you won't get elsewhere!
Unfortunately, like Schnebly Hill, you have to off-road here via your own rental vehicle or take a Jeep Tour.
So your last option is to hike the Cow Pie Trail to this epic Instagram spot in Sedona!
Most Instagrammable Restaurants in Sedona
Sedona is home to beautiful restaurants and quaint cafes, too—let's get into the most Instagrammable places in Sedona for foodies ones!
#19 Canyon Breeze Restaurant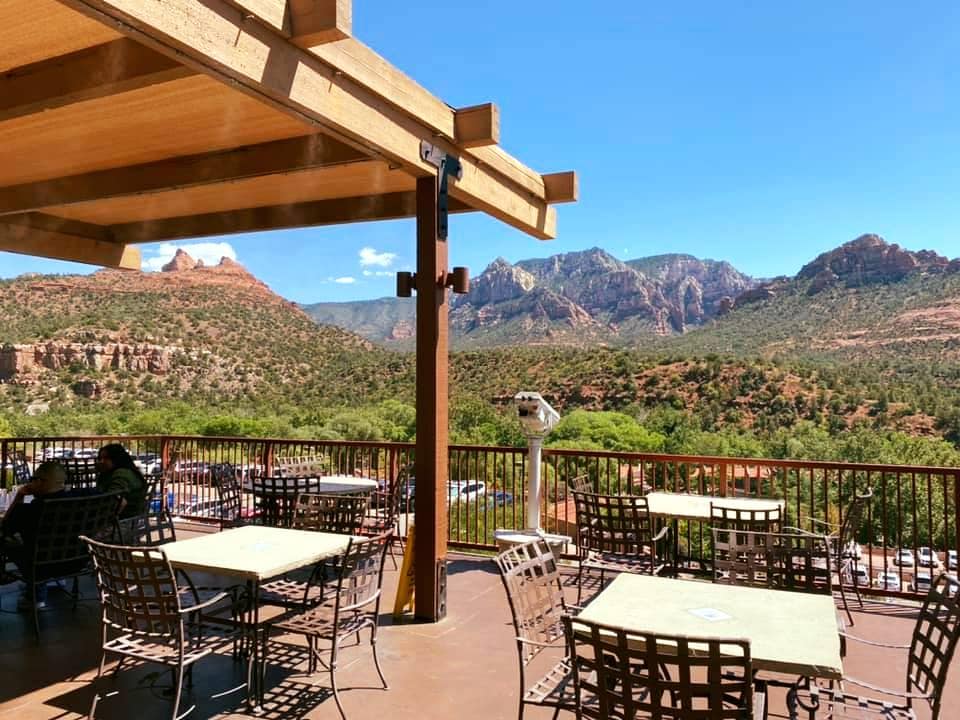 If you want to visit a restaurant that's Instagrammable and gives off romantic vibes, head to Canyon Breeze Restaurant!
Their outdoor seating area is to die for since it aligns with Sedona's beautiful red rocks.
Coming here for a sunset dinner is the perfect way to cap off a Sedona itinerary, FYI.
So come here, grab a burger, and watch a Sedona sunset.
#20 Local Juicery
Enjoy a juice and fresh acai bowl while taking your Insta pics!
Local Juicery makes for one of the most Instagrammable places in Sedona with its clean, bright interior and green hanging plants.
Try to get a seat at one of their benches and have someone take an Instagram picture of you with your back to the plant wall for the best photos.
#21 Open Range Grill & Tavern
Calling all foodies! Who feels like enjoying fajitas while snapping some pics?
Not just me, I hope! Open Range Grill & Tavern is located in the Sedona Uptown area and is one of the best Sedona photo spots for all you foodies out there.
So snag a seat by the windows for the best views and photo opportunities!
Pro Tip: Usually the restaurants in the Uptown area offer great sunset views, so plan your dinners around there.
#22 Indian Gardens Cafe & Market
Indian Gardens Cafe & Market is located off the 89A.
UGH. It's so adorable.
If you're a lover of cute cafes, head to this Sedona Instagram spot for some pics of you and your coffee surrounded by the lushness of Oak Creek Canyon!
Grab a space on the patio for the best pictures and snag one of their fresh-baked pastries or a vegan donut for some cute foodie pics!
Secret Caves
Wanna hunt for one of the most Instagrammable places in Sedona? Give one of these "secret" caves a try!
#23 Keyhole Cave
The hike to Keyhole Cave requires some bushwacking and route finding, but this has to be one of the best places to take pictures in Sedona.
Located off Sugarloaf Trail, Keyhole Cave features a massive cave formation that perfectly frames its surrounding red rock formations.
We love some framing photos here.
#24 Birthing Cave
Birthing Cave makes for one of the most Instagrammable places in Sedona because of its unique shape!
But grab your wide-angle lens!
Capturing the Birthing cave and all of its tear-drop-shaped goodness definitely requires at least a 16-35mm camera lens.
The Birthing Cave is another great sunrise photo location—that's when it's bound to have fewer visitors too.
#25 Hide Out Cave
Hide Out Cave is in a tucked-away part of Sedona, AZ.
It's a fantastic Instagram spot in Sedona because of its "window" like viewpoints.
While other Sedona caves are supermassive, Hide Out cave is much smaller and almost feels like you're in someone's little desert cubby, ha!
Once parked, you'll take a short trail to get here: 3 miles RT or 0.3 miles RT if you have a 4×4.
#26 Subway Cave
The Subway Cave can be found along the Boynton Pass Trail.
It's considered one of the best Sedona photo spots because of the cave's unique structure!
It's tubular and looks as if a subway passed right through the red rocks to cave out the most perfect viewing window.
Instagram Spots Featuring Arts & Culture
Don't sleep on these photogenic Sedona gems! They're full of Instagram worthy photo opportunities.
#27 Tlaquepaque (Unique Sedona Instagram Spot)
Tlaquepaque is a gorgeous arts village in the heart of Sedona. It's known for its shops and restaurants, but OOF.
Take pictures around the fountain area or the lush walls covered in greenery.
Another option is waiting until the evening when all the string lights come on! This village is an Instagrammer's dream! It's a popular Sedona AZ photography location for portrait shoots, too.
#28 Amitabha Stupa and Peace Park
Created for prayer and meditation, The Amitabha Stupa Peace Park is considered one of Sedona's "jewels." Surrounded by red spires and junipers, you'll find the Peace Park to be one of the best Instagram spots in Sedona!
However, keep in mind that this park is used for prayer, so please be respectful during your visit!
#29 Chapel of the Holy Cross
Chapel of the Holy Cross is undoubtedly one of the most popular Sedona attractions.
BUT its beautiful architecture built into the red rocks makes for some fantastic Instagrammable photos. You can also take the Chapel Trail to get a different view of the surrounding area or hike to the famous and photogenic Chicken Point.
#30 Uptown Sedona
Looking for some more city vibes? Then check out Uptown!
Uptown is one of the most Instagrammable places in Sedona with its adorable shopping center and bustling Main Street.
For the best photos, walk around and see what hidden gems you can find.
Make sure you get here early, though! Parking fills up quickly.
Instagram Worthy Hotels in Sedona
Want a luxury desert getaway AND a reason to photograph your stay? You're going to love these Instagram worthy hotels in Sedona!
#31 Amara Resort and Spa
The Amara Resort and Spa pool area is *chef's kiss*.
The designers created it to look like part of Oak Creek, with incredibly lush plants blocking obstructing views.
You'll feel like you're in your own little world in the red rocks! The entire property is beautiful and photographs well early in the morning or evening.
Click here to book a stay at Amara Resort!
#32 Enchantment Resort
The Enchantment Resort in Sedona is a gorgeous Sedona getaway that is FULL of Instagram photo opportunities.
You can take pool pictures while admiring the red rocks, get images from indoors along one of their floor or ceiling windows—it never ends!
The outdoor area lights up in the evening and looks like something out of a Hollywood movie.
Click here to book your stay at the Enchantment Resort!
Next Steps for Your Sedona, Arizona Adventure
Sedona as a whole is an Arizona gem to be admired!
There are countless Sedona photo spots, and even if you somehow didn't go to one on this list, you're sure to admire Sedona's beauty as soon as you step foot in the place.
Be sure to check out my Sedona travel guide and other Arizona blogs: